Model 410
Efficient Technology in a Compact Design!
Model 410 offers the same exclusive features that WaterBoss is become known for, in a smaller cabinet. MicroBossII packs much softening power into a small space. Fits under a standard sink. Ideal for condos, cottages, recreational vehicles.
Model 410 Water Softener Facts
MicroBoss offers a compact option to water softening.

There is a built-in, self-cleaning whole-house filter meaning that there are no cartridges to change.

It's made in the USA.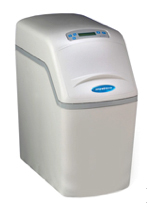 Regeneration
The Model 410 takes 12 minutes and uses only 9.6 gallons of water and 1 lbs of salt for the regeneration process.
For more information, look at the specifications.